In recent years, every spring, many places in the countryside such as Xuan Loc, Vinh Cuu, Tan Phu ... have become ideal spring travel destinations for tourists inside and outside the province.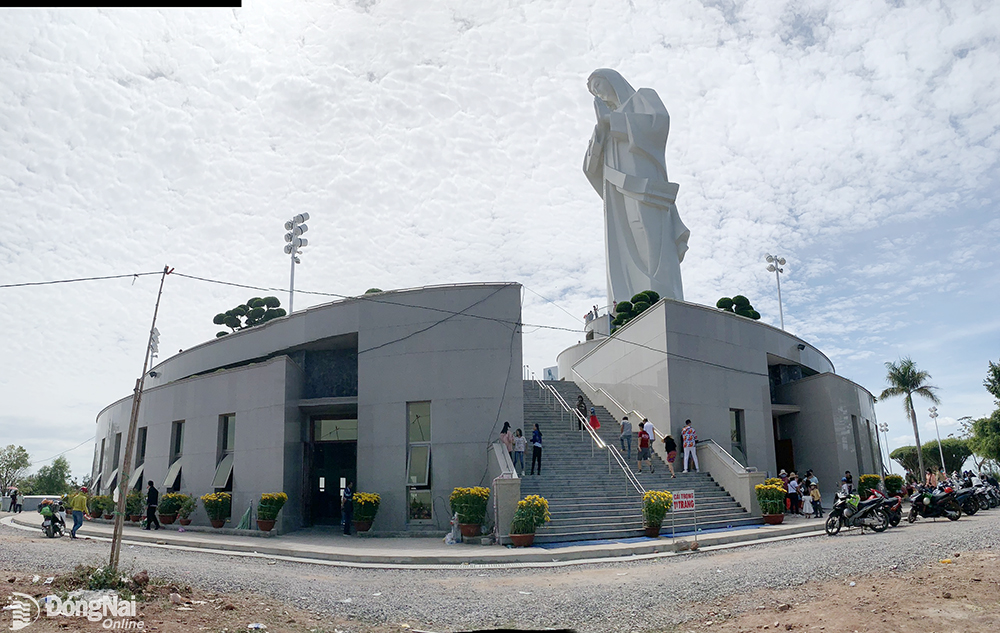 Visitors to the Nui Cui Pilgrimage Center during the Lunar New Year 2023. Photo: N.Lien
Names such as: Garden of Four Seasons, Hill of Sunflowers, Lotus Garden in H.Xuan Loc; camping check-in points around the Tri An lake area of Vinh Cuu; Check-in points in rice fields, lotus fields at H.Tan Phu... are popular destinations for tourists to visit and take souvenir photos on social networks, especially during the Lunar New Year.
* Turn your garden into a flower garden to welcome guests
Four Seasons Flower Garden (Xuan Bac Commune, Xuan Loc District) is one of the famous destinations and attracts many tourists to visit among the many flower gardens of households in H.Xuan Loc area.
Mr. Van Thanh Toan, owner of Four Seasons Flower Garden said: "On the occasion of Tet this year, to welcome tourists to visit the flower garden, I have invested quite methodically in the items and miniatures in the flower garden combined with the fruit garden. next to visitors to have real experiences. Therefore, my family's attractions always attract tourists on weekends and public holidays." During the Lunar New Year this year, Mr. Toan is expected to welcome thousands of tourists to visit each day.
According to Ms. Nguyen Thi Huong, Deputy Head of Culture Department of H.Xuan Loc, in the district, there are from 5-7 places to visit flower gardens of households. The district has the advantage of a rather rich and diverse fruit garden with a large area. Recently, farmers have combined fruit gardens with exploitation and development of rural agricultural tourism quite effectively. This creative adaptation not only keeps the rural landscape environment clean and beautiful, but also helps farmers change their thinking in civilized behavior, how to communicate with tourists, creating a rural face. developed, modern but still retains the typical rural spirit of the agricultural area.
As well as attractions in Xuan Loc district, recently Phu Dien commune (Tan Phu district) has become an ideal destination to experience the peaceful space of the village with unique natural landscapes such as mountains. Cross rock, Elephant mountain interspersed with rice fields are very impressive for many visitors.
Vice Chairman of Phu Dien Commune People's Committee Dinh Thi Huong said: "With the potential to develop agricultural and rural tourism, Phu Dien is building effective plans to develop agricultural and rural tourism according to the policy of the Government. District. This will be a strength for Phu Dien farmers to exploit their potential, develop the economy, and improve the quality of life from tourism."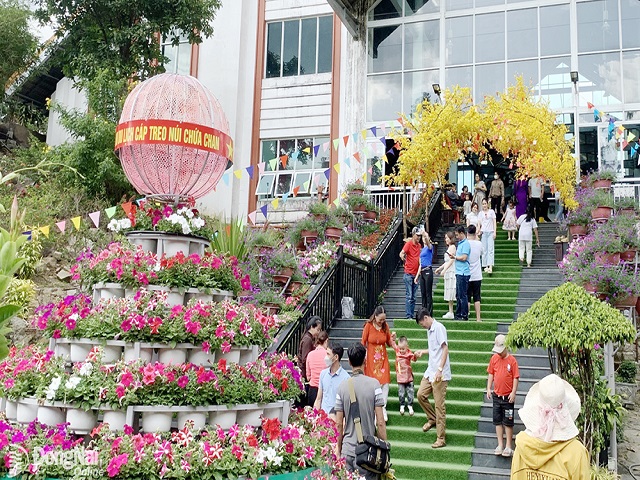 Tourists visit Chua Chan Mountain Tourist Area during the Lunar New Year of the Rabbit 2023
* Take advantage of nature
Camping near Tri An lake is a tourism model that is being known by many tourists inside and outside the province. With a poetic natural landscape, Tri An Lake is located right next to the forests of Dong Nai Nature - Culture Conservation Area (Vinh Cuu District), creating a fresh, interesting and attractive forest-lake space. guide visitors.
Having been to Tri An Lake to camp many times, Mr. Ngo Minh Hieu (living in Tan Phong Ward, Bien Hoa City) shared: "On weekends and holidays, Tet, me and a group of friends often go to Tri Lake. An recreational fishing by the lake and rest. This year's Lunar New Year, from the 3rd of Tet, my friends and I went to Tri An Lake to enjoy our holidays with nature and enjoy fishing by the lake."
People take souvenir photos at Four Seasons Flower Garden (Xuan Loc District)
According to Mr. Hieu, this year's Tet holiday, Tri An lake attracts a lot of tourists; At the same time, there are many more places to rent tents, sup boats as well as guide to explore the forest quite well. People know how to exploit and promote the strengths of forest-lake eco-tourism. However, according to Mr. Hieu, local authorities should soon have stricter management, both to ensure the safety of tourists and to sustainably exploit unique tourism products.
Having a habit of traveling with her family during the Spring Festival on the Lunar New Year holiday, Ms. Huynh Thi Mai Trang (living in Trang Bom) said that she signed up for a check-in tour to explore the lake and forest for the whole family during the Tet holiday. The Lunar New Year to ride bicycles through the forest, explore the islands and spend the night at Tri An lake area. Sharing about the choice of tourist destinations near her home, Ms. Trang said that because the economic situation this year was not as good as every year, her family chose to go out close. However, that is only part of it, the important thing is that Ms. Trang once participated in a picnic with the company in the area of Tri An lake and explored the forest by bicycle which was very interesting. This is also a way for the whole family to exercise in the fresh air of the mountains.
"I signed up for the service from a campsite by the lakeside of Tri An of local people. Participating in a guided tour of a local person, I feel safe and receive timely support if I encounter difficulties. Recently, there has been a situation where some objects take advantage of and demand money from tourists unreasonably, causing insecurity and disorder and seriously affecting the reputation and name of eco-tourism in Dong Nai. In my opinion, the authorities should soon have a radical solution to rectify this situation. Especially, hanging announcements of hotline phone numbers in many places so that when there is an incident, tourists can call for timely intervention, ensure security and order, and create a civilized environment for tourists. tourists" - Ms. Trang added
.
Ngoc Lien