Dong Nai has 173,000 hectares of forests, of which nearly 124,000 hectares of natural forests and nearly 49,000 hectares of planted forests. The province has great potential for economic development under the forest canopy. In recent years, Dong Nai is one of the localities with fairly developed forest eco-tourism, the number of tourists coming to visit is increasing.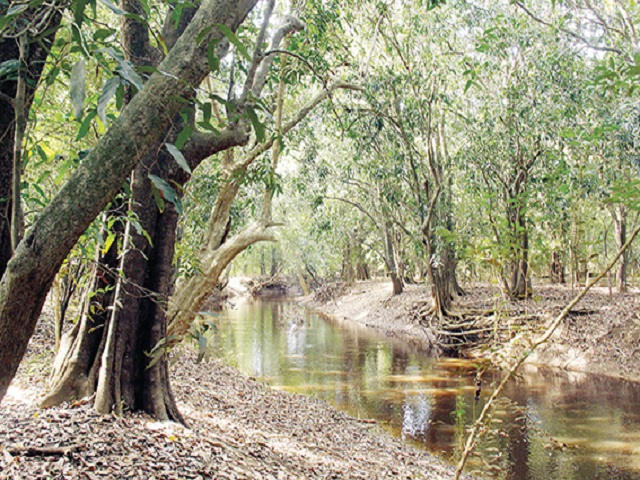 The wild beauty of Dai Phong Tu forest in Cat Tien National Park (Tan Phu District). Photo: HAI HA
Currently, the destinations that attract many visitors are: Cat Tien National Park (Tan Phu District), Dong Nai Nature-Cultural Conservation Area (Vinh Cuu District), Thac Mai - Gia Canh forest area (Dinh Quan district)...
* Trekking under the canopy of the jungle
In recent years, many tourists are more and more interested in mental health and trekking trends. Being immersed in the atmosphere of nature, especially the canopies of primeval forests, is a pleasure both to rest and relax with nature, as well as a therapy for spiritual healing and life balance.
For a long time, the route to explore the primeval forest in Cat Tien National Park is one of the interesting trekking routes, chosen by many domestic and foreign tourists when coming to Dong Nai. Cat Tien National Park, in addition to being recognized by UNESCO as a World Biosphere Reserve with the great values brought by a tropical forest, is also full of breathtaking images and exciting experiences for those who want to visit. Guests love nature, want to "bathe" themselves with wild nature.
With an area of more than 71,000 hectares, spanning 3 provinces: Dong Nai, Lam Dong, Binh Phuoc, Cat Tien National Park owns an impressive green space with vast primary forest canopy and a system of flora and fauna. rich. Thanks to its location close to Ho Chi Minh City - the most populous city in the country, fresh air and many activities associated with nature, Cat Tien National Park is popular with domestic and foreign tourists, especially young tourists, choose as a place to explore.
On summer days, Cat Tien National Park puts on a green color and a mild atmosphere. This is the ideal time for visitors to find a peaceful place, enjoy watching the green forest canopy stretching as far as the eye can see, and mingle with the romantic and mysterious space... To explore the forest, now visitors can Choose from many different tours such as: day or long day, Jeep ride, bicycle, sightseeing trekking. The tours often chosen by tourists are camping along the Dong Nai river, overnight at Bau Sau, watching night animals, going through the forest, discovering diverse flora and fauna ecosystems and checking-in ancient trees. hundred years old…
Mr. Bui Quoc Vy, a guide with nearly 20 years of experience with the National Park, Cat Tien shared, on the road to experience from the edge of the forest to Bau Sau, visitors will be able to witness many precious and special plants with their own eyes. The property of Cat Tien is on the side of the road such as: tung tree, eucalyptus tree, red oak tree, some vines such as: bam bam, creeper's hoof, etc. In addition, visitors can also experience Dai Phong Tu forest typical for the system. flooded ecology in Cat Tien with large woody trunks, some trees up to 20m high, living along canals, streams and canals.
Director of Meerkat Travel Travel Service Co., Ltd (Dinh Quan District) Nguyen Nho Kien said that the company specializes in providing picnic tours in the direction of trekking, camping, sharing nature, and trekking tours. Recently chosen by many tourists is Gia Canh trekking - Thac Mai forest, about 2-8km long. This is one of the few primeval forests that still retains the wild and beautiful features of the tropical forest with many rare species of flora and fauna.
* Harmony with nature
Along with that, visitors can also freely explore the roads to Dong Nai Cultural Nature Reserve, immerse themselves in the rustic experience with local people in the buffer zone of the forest, Tri An lake area.
Ms. Nguyen An Xuan, a tourist in Buu Long Ward (Bien Hoa City), said that on the occasion of April 30, she went camping at Tri An Lake and was able to participate in cycling activities in Ma Da forest belonging to the province. Dong Nai Natural Resources Conservation Area. The trails through the forests with many winding bends, cool shady trees bring a feeling of freshness in the soul, making all stress go away.
"There is no need to go to far places, Ma Da forest is a very suitable "healing" place for me. Cycling in the forest can both exercise health, relieve stress, and discover and expand your eyes by interesting things from the green forest "- Ms. An Xuan confided.
What impresses visitors when coming to Dong Nai is the green old forests and diverse vegetation. Standing in front of the "tree gods", "trees" with a lifespan of several centuries, standing in the middle of the vast green forest, visitors will feel that mother nature is magical and the soul is also more relaxed. The deeper you go into the forest, the cooler and fresher the air becomes.
Mr. Ngo Nam Thang, a tourist from Thu Duc City (HCMC) said that he loves to explore through the natural forest from the South to the North, in which Cat Tien forest is the ideal destination that he goes to. never get bored. "I have almost been able to fully admire the beauty of butterfly seasons, peach blossom, and even the season of changing leaves in Cat Tien. All these experiences have brought me surprises and interesting things that only Cat Tien National Park has, "- Mr. Thang said.
Mr. Nguyen Nho Kien added, Thac Mai - Gia Canh forest is an ideal stop for tourists to trek, camp, picnic, learn and experience the rainforest ecosystem. Here, visitors can visit and explore Bau Nuoc Soi, the field at the edge of the forest, the big rock peaks of Bay Mau, Bat Cave...
Hai Ha