From the beginning of June, summer tourism has officially entered the season, when schools have just finished the school year. This is the longest tourist season of the year (from June to the end of August), an opportunity for families, businesses, agencies... to take advantage of their children's summer vacation time to organize sightseeing trips. , resort in domestic and international tourist destinations and destinations.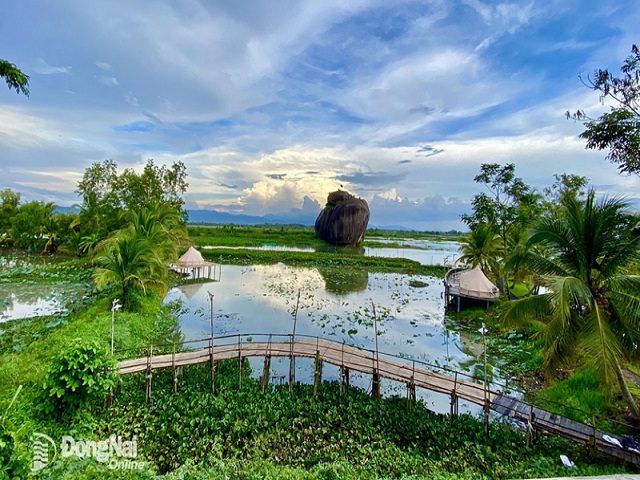 Phu Dien Glamping tourist attraction has attracted visitors recently in Tan Phu district, Dong Nai province
Not outside the excitement of the tourism market, tourist areas and attractions in Dong Nai have quickly upgraded and embellished areas and destinations. Enterprises have built more new domestic and foreign tours and routes to stimulate demand and bring the tourism industry back to the way it was before the Covid-19 epidemic.
Interesting destinations of Dong Nai
Dong Nai has 23 tourist areas and attractions, in which, many famous tourist sites and attractions attract domestic and foreign tourists such as: Cat Tien National Park, Suoi Mo Tourist Area (KDL) District Tan Phu); Camping tourist sites in Tri An lakeside area stretching through Vinh Cuu, Thong Nhat and Dinh Quan districts. Famous waterfalls such as: Ba Giot Waterfall Tourist Area, Mai - Bau boiling water waterfall (Dinh Quan district), Giang Dien waterfall, Da Han waterfall (Trang Bom district); the tourist resorts of Buu Long, Mango Garden, Thien Tam, Son Tien (Bien Hoa City); Traveling to Viet Bamboo Village, Golden Scorpion (H.Nhon Trach)... To invite visitors, each zone and site has its own programs ready to create highlights, differences, and excitement for visitors upon arrival. sightseeing, relaxation.
Mr. Tran Van Binh, Director of the Center for Environmental Education and Services (Cat Tien National Park) said that right from the end of May, tourists have started to come to the National Park more. Cat Tien National Park is currently in the beautiful peach blossom season, spread throughout the forest. In particular, there is an area of ​​more than 2 hectares of concentrated peach trees, becoming a place to attract many tourists to take souvenir photos.
Not only flowers, this time is also the proliferating season of butterflies with all colors, creating a unique natural setting for Cat Tien National Park, which very few places have. Along with the natural gifts, Cat Tien National Park also has many activities in the summer such as: forestry semester programs for students, in collaboration with the People's Committee of H.Tan Phu to organize activities. activities to learn the culture and history of Tan Phu land for students in the area. In addition, in order for visitors to fully live in the atmosphere of the forest, the National Park also has about 80 resort rooms to serve up to about 200 guests with accommodation needs.
In particular, in the early days of June, in response to the International Children's Day, some tourist resorts have special programs for children such as: Suoi Mo Tourist Resort offers free entrance tickets on June 1 for children. children under 1.4m tall; Buu Long KDL is free of charge for children under 1.4m tall, students with good and good achievements (photocopy of merit certificate attached) or buy adult tickets and give children tickets until the end of July 31, 2023; Golden Scorpion KDL free game for grade 1, 2, 3 and students.
Mr. Tran Dang Ninh, Chairman of the Board of Directors of Buu Long Company Limited, the unit that manages and operates Buu Long Tourist Park, said that in order for urban children to have more space to experience tasks such as making cakes and growing vegetables, Mr. …, KDL Buu Long has a Kird farm program for groups of 20 or more children who will be supported by a guide to implement the games. Mr. Ninh shared: "In addition to fun activities, Buu Long Tourist Area also has accommodation for guests wishing to stay. Facing the current general economic difficulties, Buu Long Tourist Resort always aims to share with workers and low-income workers who do not have the opportunity to go out.
Diverse summer tourism products
In order to create a variety of products to attract tourists, in recent years, Dong Nai tourism has increasingly changed by the variety of quality tourism products to meet the needs of tourists. . In particular, a number of tourism products are formed in chains by alliances between destinations, or tour operators such as garden eco-tourism products in Long Khanh City, Xuan Loc City have connected destinations. the owner of the fruit garden, creating a tourist route to garden spots with many different fruits for visitors to have the opportunity to experience.
Students visit agricultural models at Bamboo Viet Eco-Tourism Village (Nhon Trach, Dong Nai)
Or as a forest eco-tourist route with activities to explore the green forest, connect with camping, relax at camping sites, lakeside glamping, or resort spots, focusing mainly on H. Vinh Cuu localities. , Dinh Quan. Than Van Linh, Director of Tri An Adventure Travel Company (Truong Bom District), shared, is a unit specializing in organizing experience tours, forest exploration combined with water activities, camping. In the islands on Tri An Lake, Cat Tien National Park area and exploring nature, village space combined with Glamping resort in Phu Dien commune (Tan Phu district) for many years, his company has created own brand in the market. In addition to the ever-increasing number of new visitors, every year, over 70% of old guests return to use Tri An Adventure's experience travel service when traveling in the forest in Dong Nai.
In addition to the strengths of agricultural and rural tourism and forest eco-tourism, Dong Nai also has tourism products that attract quite a lot of visitors, such as river tourism with water entertainment spots at the Golden Scorpion KDL. Tre Viet eco-tourism village and tourist route connecting from Bach Dang Wharf (Ho Chi Minh City) to the Wharf of Swan Bay Eco-urban Area (Nhon Trach District) to experience camping and resort services along the coast. river. Or as train tourism products, health care in Bien Hoa city has also attracted a large number of tourists to Dong Nai recently.
Mr. Tran Manh, a tourist from Ho Chi Minh City said, for many years, Dong Nai has always been a weekend getaway for his family because of its close proximity. Tri An lake area, Cat Tien National Park is often the destination his family chooses most because of the scenery and fresh air. Mr. Manh shared: "Recently, Dong Nai has added many beautiful tourist attractions, especially the area along Tri An lake, giving our family more options for a weekend getaway. I heard that Dong Nai is planning a project to raise semi-wild animals Safari in Dong Nai Nature - Culture Reserve, my family is looking forward to coming to Dong Nai's Safari soon to enjoy tourism products under the canopy. forest".
According to Dong Nai newspaper