Dubbed the "fruit capital" of the South, Long Khanh City is a "hot" name in the domestic tourism market because the fruit season is the most ripe of the year.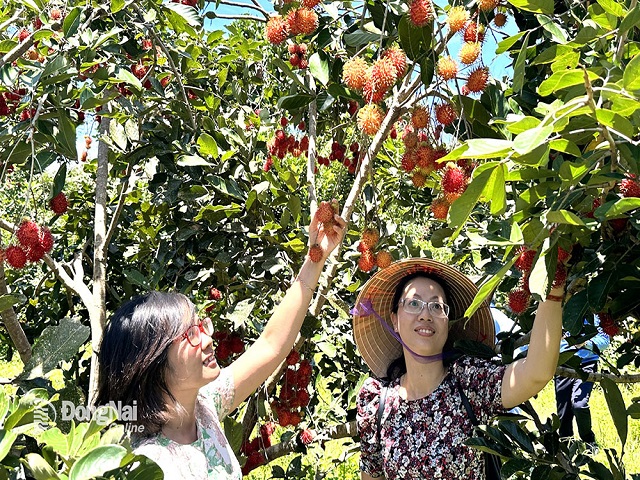 Tourists visit a fruit garden in Binh Loc commune. Photo: N.Lien
However, besides the unique features of a rich fruit area, along with a good quality rural infrastructure system, Long Khanh City is still looking for ways to overcome some disadvantages and maximize its benefits. and develop a scenario for sustainable local tourism development.
* "Minus point" in the garden eco-tourism village
Binh Loc commune is the area with a large fruit garden and the earliest tourism development of Long Khanh city since about 5 years. However, according to some tourists, besides the good impression of fruit, at some points the garden has begun to appear "minus points" that are not worth it, causing trouble for visitors.
Ms. Tran Thi Ai Van (living in Buu Long Ward, Bien Hoa City) said that because she is passionate about discovering garden tourism, in the fruit seasons, Ms. Van often goes to Binh Loc on weekends. This year's fruit season, Mrs. Van and a few friends went to the fruit garden near the end of June. She bought a ticket from a gardener for 150,000 VND/person to visit the rambutan, mangosteen and guava garden. . However, Mrs. Van was quite disappointed because the attitude of some gardeners was not welcoming, even some gardeners followed to remind… not to pick fruit.
Not being prevented from picking fruit, but Mrs. Nguyen Thi Hong Thu (living in TT.Long Thanh, H.Long Thanh) was led to the orchard that had run out of fruit. According to Ms. Thu, after buying tickets to visit, tourists are served to travel around the gardens by three-wheeler with a roof which is quite impressive. However, when coming to a mangosteen garden, the whole garden only scattered a few fruits, but not yet ripe. After a few minutes of observing the orchard and feeling disappointed, Ms. Thu's group of friends quickly left the garden to go another point in their dissatisfaction with this way of doing business. Ms. Thu shared, guests are attracted to the fruit garden here because they want to be able to pick fruit and enjoy it at the garden. Compared to the price of fruit in the ripe season, the ticket price of 150,000 VND is high, each guest himself mainly wants to visit, take pictures and eat a few insignificant fruits. Customers who want to bring back fruit are charged separately. Ms. Thu said: "The gardeners must be clear from the beginning with visitors about the status of the gardens, they should not let guests who have bought tickets but when they come to the gardens, they encounter an unwelcoming attitude. the tree has no fruit or does not allow guests to pick fruit. Learning from experience, next year I will ask for information before coming."
* For tourism to develop sustainably
In the peak season of garden tourism, Long Khanh City can welcome thousands of visitors to the fruit gardens. However, garden visitors only pick or take pictures with the fruit at the low tree level near the ground, the gardeners still have to harvest in the high ground to sell to the collectors. Most of the visitors who come to visit and experience the fruit garden are satisfied with the vast orchards, the most impressive are the red ripe rambutan orchards that make visitors take hours to take pictures to check in. …
Mr. Tran Quang Tuan (living in District 12, Ho Chi Minh City) shared, he himself has never been prevented from picking fruit when he goes to the fruit garden. However, from friends and some information has been posted online, so Mr. Tuan said that gardeners should make changes to retain tourists.
Sharing about the "minus points" that have appeared recently in some fruit gardens, Dr. Ta Duy Linh, director of the Institute of Economic and Tourism Development Research said, not only gardeners in Long Khanh, in the process During the consulting process to create tourism products and improve the lives of people in some other places, I also found that there have been negative changes from farmers. According to Dr. Ta Duy Linh, in order for agricultural tourism to develop sustainably, in addition to supporting the construction of quality tourism products, farmers themselves need to understand the advantages and disadvantages when they do not satisfy customers. . People need to keep the sincerity and warmth to make guests feel like coming to the garden like returning home; Tourists are comfortable freely in the home garden. That is the core to retain visitors in the years to come.
Ngoc Lidn